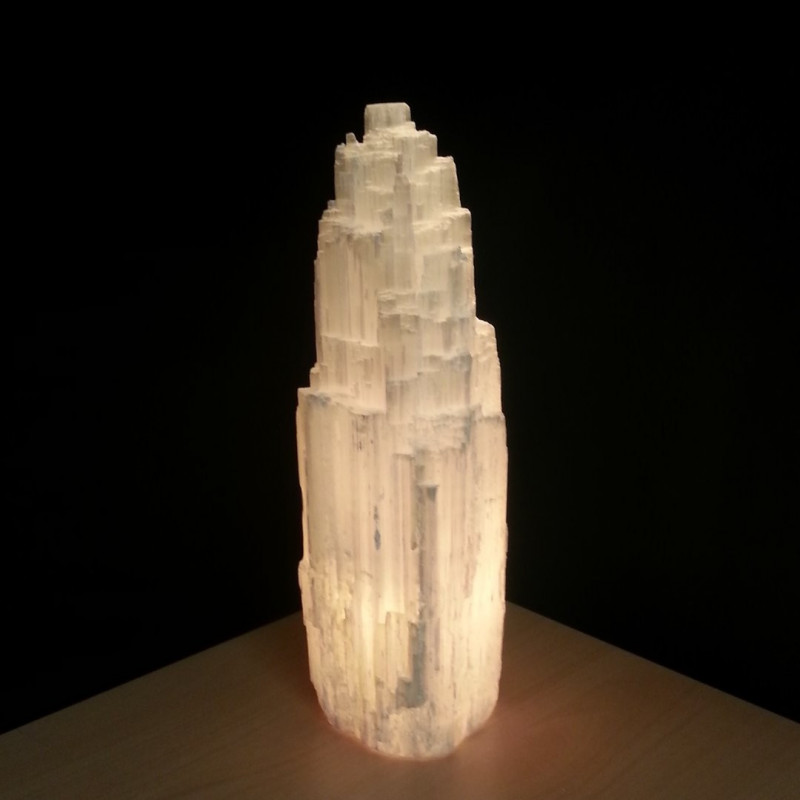  
Selenite lamp 1.5 - 2 kg
Lamps of Super Extra Quality.
Each Selenite Lamp comes complete with bulb and plug.
Height 15-20 cm and width 7-10 cm
They are sold by approximate weight. Each lamp is a unique piece.
Orientative photo.

Secure Payment

Shipping in 48 hours to Spain

Return until 14 days after purchase
Selenite (in Greek, selēnē, 'moon'), is a variety of lime sulphate, hydrated calcium sulfate, a mineral of sedimentary rocks, the first to be formed by the evaporation of seawater in lakes and enclosed seas. It is so called because, according to a legend of central Europe, crystals are formed in a crescent moon. It is colorless, white, sometimes with pearl or satin luster, it shows a special transparency, glacial, fine, striated and very delicate. It is distinguished from other minerals by its softness. Most of the selenite crystals are striated and the long lines protruding along their length animate and channel a high frequency energy through the entire body of the crystal.
The specialists in Feng Shui recommend this type of lamps as a harmonizer of the environment since when heated by the effect of the bulb installed inside, it emits negative ions beneficial for the human being.
One way to get negative ions increased in the home is to install a selenite lamp, and it will also help reduce air pollutants.
As the most relevant properties, selenite provides feelings of well-being and optimism. It is relaxing and is recommended to people suffering from anguish and anxiety, as it provides tranquility and ability to solve problems and face vicissitudes. Fight sadness and melancholy. It brings noble feelings and exalts the manifestations of sweetness and tenderness. It is a mineral of friendships and relationships, it provides courage and courage and separates the insecurity that exists in some moments. It is recommended as an amulet in making crucial decisions. She is a good partner in business and in companies, especially in those that start. It brings the ability to see things clearly, making its bearer a good counselor.
At the physical level, it stimulates the functioning of the digestive system, fights halitosis, detoxifies cells, opens appetite, tones muscles, protects bones and improves ulcers. It is beneficial to treat diseases that affect the respiratory system; regulates the production of adrenaline, protects ovaries from cysts, and calms menstrual pains.
It is proven that the negative ions emitted by these lamps can provide a considerable improvement in cases of allergies, headaches and migraines, reducing the severity of asthma attacks, strengthening the immune system, increasing productivity at work, strengthening concentration and even reducing the susceptibility to the flu.
There is therapy through colors, in this case white (selenite) is the color of purity, healing and cleanliness.
The white light (selenite), on the other hand, reinforces the concentration and helps in the clarity of ideas. Enriched by these therapeutic properties, the mineral lamps create a tenuous and very peaceful atmosphere, achieving a pleasant and natural environment that favors the environment and achieves a beneficial effect on the physical and emotional state.
1 other product in the same category: